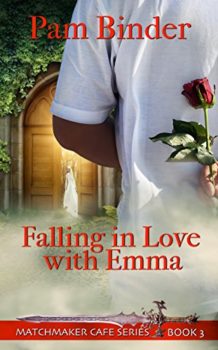 Matchmaker Cafe Series #3
October 27, 2017
The Wild Rose Press (Fantasy Rose)
ISBN-10: 1509216561
ISBN-13: 9781509216567
Available in: Audio, e-Book, Trade Size
Falling in Love with Emma
Kindle eBook specially priced now at 99 cents!
Ever since the sudden death of her mother left Emma in charge of caring for her grandmother and the family's French bakery, she has survived by rejecting change. The last thing she wants is an ex-boyfriend with commitment issues. But while making a delivery to the matchmaker sisters' café, Emma opens a door and is transported to eighteenth-century Paris, on the eve of the French revolution.
Björn has made a mess of things. He returned from fishing in Alaska believing his relationship with Emma would go back to the way things were, only to have Emma smash a pie in his face. But when Björn learns she is in danger, he leaps at the chance to save the woman he loves, even if she wants nothing to do with him.