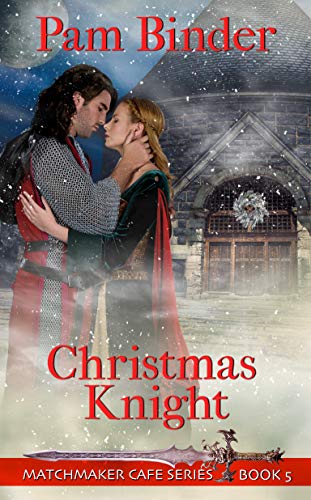 Matchmaker Cafe Series #5
November 6, 2019
Wild Rose Press
Christmas Knight
Kindle eBook specially priced now at 99 cents!
Colin Edward Penrose, a knight from fifteenth-century Glastonbury, England, must solve the riddle of his family's curse and marry a woman out of time – or lose his ancestral home. With a matchmaker's help, he meets a woman to whom he feels an instant attraction, but he knows the curse makes falling in love dangerous for her.
Madeline Murphy, defense attorney in a prestigious law firm, needs a date for her family's Christmas Eve party. In desperation, she turns to a matchmaker for her knight in shining armor. The man supplied exceeds her wildest fantasy but vanishes without a trace.
A year later she needs a date for her mother's wedding, and she asks the same matchmaker for help. One problem: In order to find her mystery man, Madeline must travel through time.