Latest News
Grab Your Warrior Time!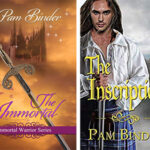 Pam is excited to announce the April 11 release of her latest time travel novel, THE IMMORTAL (Immortal Warrior Book 2). To celebrate, Wild Rose Press has reduced the price of the Kindle format of...
Newsletter
Sign up now to receive sneak peeks at Pam's upcoming books along with special contests just for subscribers!