Welcome to the Matchmaker Café
Where a mysterious doorway will sweep you back in time to the days of heroic knights, enchanted castles and wild, romantic fantasies!
Five books, each specially priced for a limited time at 99 cents!
Latest News
THE IMMORTAL and WYLDER TIMES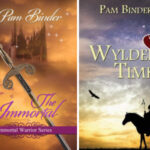 Two 2022 Pam Binder novels are perfect for you readers who enjoy adventurous time travel to historic times with hunky warriors and strong heroines. In THE IMMORTAL, William MacAlpin is a smoke jumper who fights...
Newsletter
Sign up now to receive sneak peeks at Pam's upcoming books along with special contests just for subscribers!