Latest News
Christmas Deadline Coming November 4th!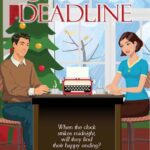 Coming November 4 is my brand new novel, Christmas Deadline, which an early reader has compared to the Moonlighting, the '80s sitcom starring Bruce Willis and Cybill Shephard. This delightful series was known for its...
Newsletter
Sign up now to receive sneak peeks at Pam's upcoming books along with special contests and excerpts just for subscribers!